Medal of Honor Warfighter Lossless - AGB Golden Team
READ MORE
Release Date: October 23, 2012
Language: English
Platform: PC
Developer: Danger Close
Publisher: Electronic Arts
Genre: Action (Shooter) / 3D / 1st Person
Written by active U.S. Tier 1 operatives sent to overseas mission and inspired by real world threats, Medal of Honor Warfighter provides aggressive, edgy and authentic experience that puts you in the role of the most disciplined and precise fighters to date. Medal of Honor Warfighter lets you look closely battlefield and fight the constant threat of global terrorism. Following in the footsteps of the Medal of Honor in 2010, which launched a series of game themes of the Second World War and I met the most elite U.S. soldiers, Medal of Honor Warfighter takes you beyond Afghanistan to continue operation missions in places where there are real conflicts. This is a Tier 1 global, including real hotspots worldwide and international Tier 1 operatives in multiplayer. Limited Edition Includes: The Limited Edition Includes the US Navy SEAL Sniper and McMillan TAC-300 sniper rifle for use in multiplayer from Day 1 . Plus, you'll Unlock the British SAS Spec Ops Special as a pre-order bonus.
Key features:
BATTLE THROUGH REAL-WORLD EVENTS
From rescuing hostages in Abu Sayyafs stronghold in Basilan, Philippines, to assaulting Al-Shabaabs Pirate Town on the Somali Coast, gamers step into the boots of Tier 1 Operators as they hunt down the global threat of PETN. Medal of Honor Warfighter has a dotted line to real-world events and lets players experience the action as it might have unfolded.
EXPERIENCE AUTHENTIC ACTION
Medal of Honor Warfighter delivers incredible video and audio fidelity by leveraging the power of the best-in-class Frostbite 2 engine. Every detail from the sound of the weapons to the landscapes of actual locations is as authentic as it gets.
PLAY AS ELITE WARFIGHTERS FROM AROUND THE GLOBE
Gamers can represent their nations Special Operations forces on the multiplayer battlefield where the worlds best-of-the-best warriors go head-to-head in online competition. Medal of Honor Warfighter showcases 12 different Tier 1 units from 10 nations including the British SAS, Australian SASR, German KSK, Canadian JTF2 and Polish GROM.
FIGHT TODAYS GLOBAL TERROR THREAT
As with every Medal of Honor game, the soldiers story is at the heart of the experience. Medal of Honor Warfighter tells the story of U.S. Tier 1 Operator, Preacher as he returns
home from overseas only to find his family torn apart from years of deployment. When a deadly explosive penetrates civilian borders and his two worlds collide, Preacher and his fellow teammates take the fight to the enemy and do whatever it takes to protect their loved ones from harm .
Install Note:
* Download
* Unrar Files (Use Winrar or 7Zip)
* Mount or Burn
* Install
* Play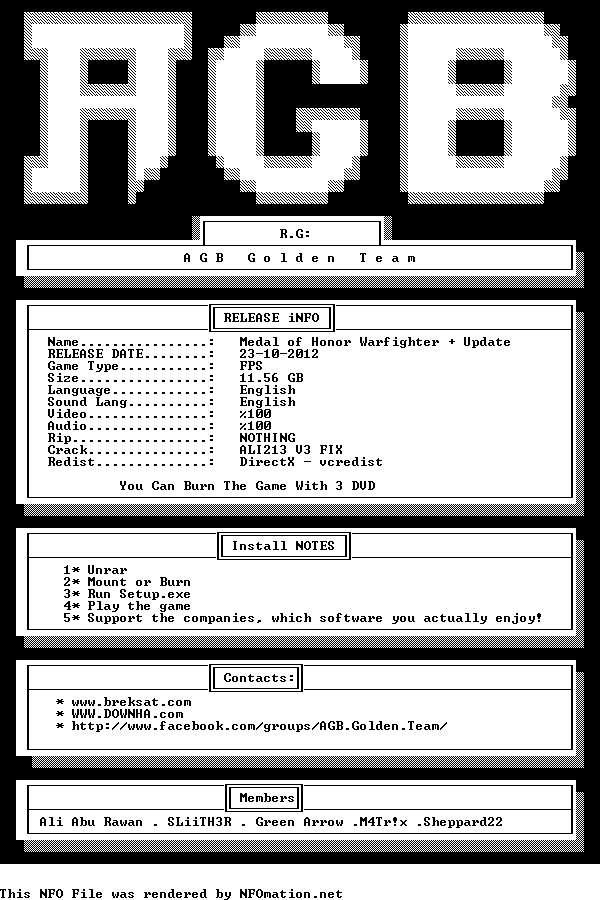 Screenshot :